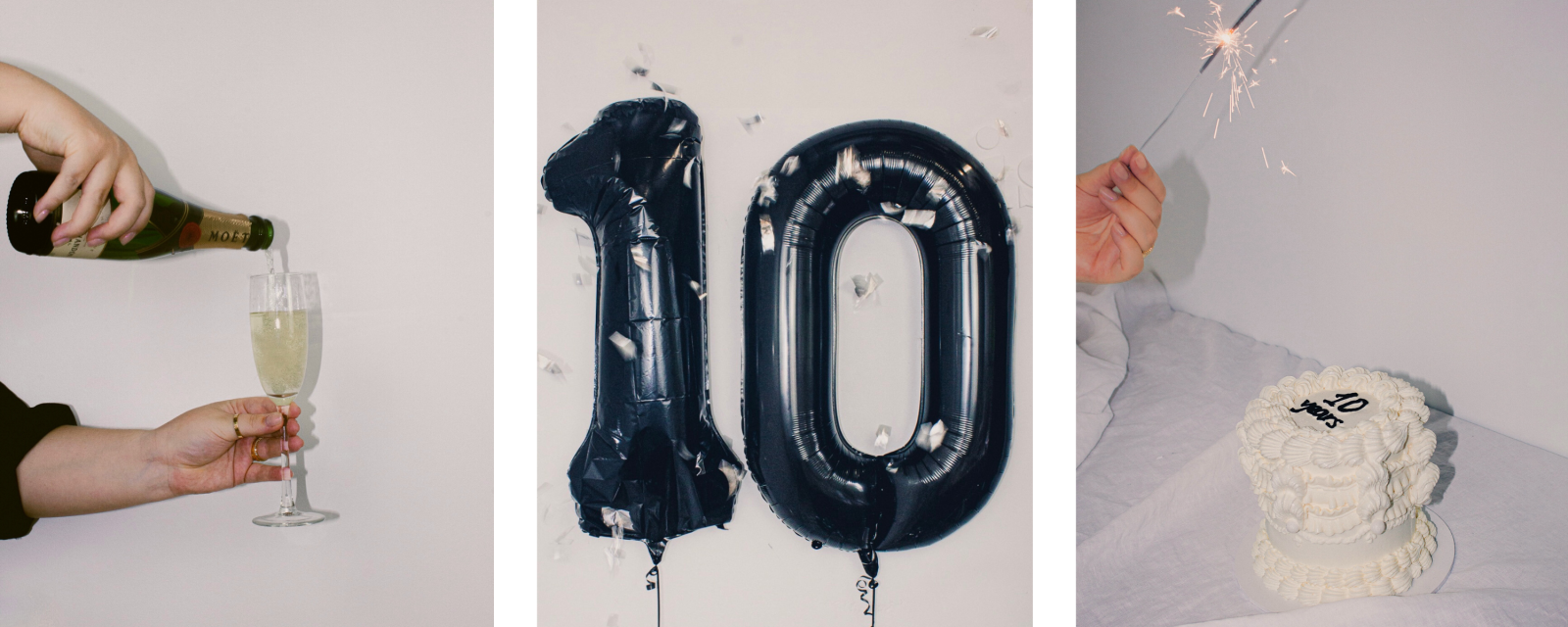 As we celebrate 10 years of Maison Blanche, I am filled with pride for what this business has become. I have had the pleasure of growing up alongside this business and truly could have never imagined the journey Maison Blanche would take me on when I started this company at just 22 years old.
There is no doubt that running a business is hard work, horribly isolating and sometimes heartbreaking but as I reflect on the past 10 years, I am grateful for all the highs as-well-as the lows. Although feeling devastated at the time, I now know each low in this business has taught me valuable lessons in resilience; sculpting me as a business owner and as a person.
From travelling the world to source materials & attend trade-shows, seeing my products on the shelves of my favourite stores and being able to work alongside some of my best friends, Maison Blanche has given me so much to be grateful for.
To our customers; it has been an honour for me to fill your homes with fragrance over the past 10 years and I hope that myself and Maison Blanche continue to scent your favourite places for many years to come.
THE JOURNEY
The beginning of Maison Blanche started in November 2012. At this time in my life, I had bad anxiety about my job and I used to light a candle in my room early evenings, almost like a signal for me to wind down so I was actually able to sleep. One night I had a vanilla candle from IKEA burning on a bookshelf in my bedroom as I was having a shower. Once I returned to my room, the flame of the candle had grown so large that it had charred the wall, and burnt through the shelf above. After cleaning up the mess, and throwing away the candle, I started to research types of candles; this led me to discover soy wax. In 2012, there were not many soy candles available to purchase, so I found a candle supply website and purchased $40 worth of supplies. I made myself a vanilla bean soy candle for my mum and myself, following a step by step guide in a blog post.
From that first candle, my mum asked me to make more for her to give to our extended family for Christmas. Once my family received their gifts, they also wanted to buy some candles from me to give to their friends and family. That's when I knew I wanted to start a soy candle business. I bought more supplies with the money from the candles my family bought (as well as some money my mum gave me) and started to practise making candles in my kitchen. They were not perfect- an issue that kept me up at night, but I persevered. I learnt so much in that first month of making candles, some of which is still relevant when I make candles today.
By February, I had picked a name, created a logo (read more about that here) and opened an Etsy store. I made my first sale 3 days later. For a few months I worked on Maison Blanche at night around my full time job with the help of my mum & friends pitching in to keep up with the orders. After 9 months, Maison Blanche had grown enough that I was able to quit my job & focus on my business full time.
Over the next few years, Maison Blanche grew so fast and in ways I could have never imagined. Just 18 months after selling my first Maison Blanche candle we were stocked in Sephora, had been featured in Vogue Living magazine (along with other publications), I was ready to hire my first employee & move into warehouse space.
Meeting my husband James in 2016 was a huge turning point for me as a business owner. He taught me to celebrate the wins, no matter how small & supported me through every low point, giving me the confidence to keep going. His unwavering support of me and my business is undoubtedly the reason Maison Blanche has reached this milestone.
Maison Blanche grew into a larger warehouse & office space, we re-branded, hired more staff, started to distribute overseas & launched into Myer nationally. Then covid hit. I thought it was the end, but surprisingly candles (alongside toilet paper) was a hot ticket item for the masses stuck in their homes looking for a slice of luxury. I ran the warehouse for months with just the help of my husband & my dad, whilst also learning to make scented hand sanitiser; which was a big hit!
After covid, we opened the warehouse back up with a full team of staff & were thrilled to see our old stockists reopen and fill their shelves with Maison Blanche along with welcoming a bevy of new stores to our family- including department stores in Asia & 'The Iconic'!
LOOKING FORWARD
Maison Blanche has no plans of slowing down as we move into our teens. This year particularly will feature new fragrances, new products, a new website, in-person sale & events as well as updated branding. We are excited to get more transparent with our customers and show them more behind the scenes of our brand & highlight how our team handcrafts each & every Maison Blanche product.
Speaking of our team, this year we are acknowledging that they are our greatest asset by transitioning into a 4 day working week, with staff being compensated at full rate. Our brand & products have always advocated for self care by encouraging you to carve out time to do what you love (surrounded by great fragrance of course!) and we want this to continue into our workplace. We know that people work their best when they are happy, healthy & rested and we look forward to seeing our team continue to thrive personally & professionally with this change.
If the past 10 years have taught me anything, it's to expect the unexpected so as I look into the future of Maison Blanche, I have left a lot of empty space for the brand to grow & move into organically around the market, as well as my own life. I look forward to revisiting this note after another 10 years when reflecting on the journey and all we have achieved by 2033.
Thank you for all your support.
Written by Kristy Payne / March 2023