Maison Blanche had the wonderful opportunity to sit down with Steph Kramer, blogger from Watermelon Crush and talk all things interiors.
How would you describe your decor in one word?
Scandinavian. It's in my blood and there is no escaping it, so why not embrace it! Since we live by the beach a little bit of a rustic touch and authenticity gets thrown into the mix as well. Perfect is boring.
What inspires you when shopping for interiors?
Shape, colour and functionality. Whenever I browse for new things for the house I want to ensure that it can work in seamlessly with what we already have, and that there will be plenty of use for it. I used to be drawn to interiors with little function but looked pretty, which you usually end up getting tired of and have no use for in the end.
As a blogger you're creative space is important – what are some tips for designing an inspiring work space?
I am a complete neat freak. I get antsy when things are out of place, so organisation is key for me. Since I work from home mostly it's important to feel like it's a separate space with plenty of room for photography, videography, designing, drawing and mood boards. I need to be able to play my own music, have fresh flowers and a beautifully scented candle is the cherry on top.
What is your go-to recipe for a dinner party with friends?
I can never go past a good salad, with tons of fresh veggies and a home made dressing. I always throw something fun in the mix – such as pomegranate, edible flowers or a dukkah. Colour and texture is key, and I always make sure to serve it with a fantastic piece of steak or BBQ skewers, which is a favourite for us in summer.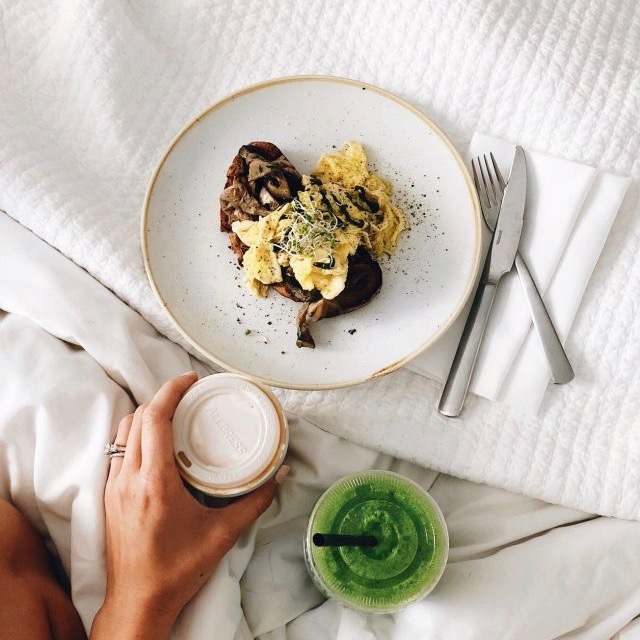 Where is your favourite place to unwind in your home?
By our big wooden farmer's style table, which overlooks the beach. Coffee in hand, music in the background. Bliss!

Where is your favourite place to shop for unique homewares?
I am not a fan of vintage clothing, but I love it for kitchenware. Old school decanters, oddly shaped crystal glasses, plates and bowls are the best. Adding a few odd pieces in with an otherwise very clean palette makes it all feel a little but more authentic and fun.
Which flowers do you love to bring home?
Peonies are my all time favourite (the colours, scent and the way they bloom), but they are not readily available in Australia. I used to love Sunflowers
growing up, and I would love to plant some in our garden. Otherwise I tend to go for succulents as they are so easily maintained, and white orchids.
If you could housesit for anyone in the world, who would it be
Taylor Swift's apartment in TriBeCa. I would happily house sit for a weekend… or two.